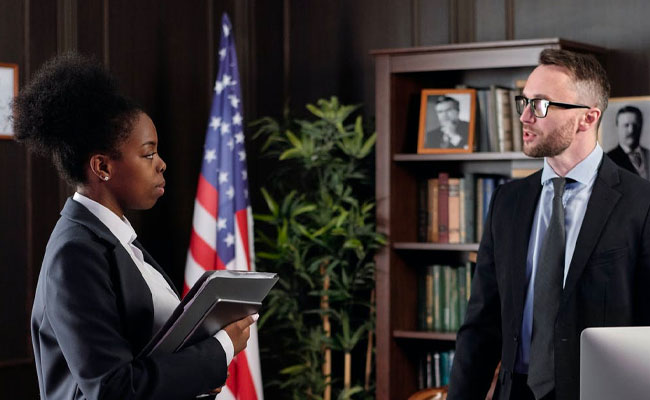 A US Visa is a sticker visa that is attached to a foreign national's passport. A foreign national's entrance to the United States is not guaranteed by a US visa. 
When you produce your visa, it is at the discretion of the DHS and CPB Inspectors. Foreign nationals from 38 VWP nations are able to visit the United States for business or vacation for up to 90 days without requiring a visa. 
US Visa Types – Comprehensive Guide to US Visas
The Visa Waiver Program (VWP) also requires those 38 countries to allow US residents and nationalities to visit them for the same period of time without requiring a visa for business or tourism. If your nation isn't on the list, you'll need to apply for a visa in the United States.
A CBP officer at the point of entry determines the amount of time you can stay in the United States. The officer may grant you the same amount of time as stated on the visa, or a lesser amount of time, or in certain circumstances, a greater amount of time. He or she will stamp your passport with a date that your visa is valid till. If a foreign citizen wishes to prolong his or her stay in the United States, he or she must submit a request to the USCIS. 
Before the allowed stay ends, fill out Form I-539, Application to Extend/Change Nonimmigrant Status.
Visas for Immigrants to the United States
Immigrant visas come in a variety of shapes and sizes, depending on their intended use.
Children of a U.S. citizen's fiancé who apply for a K-1 visa may apply for K-2 visas if the fiancé's Form I-129F is approved.
A foreign citizen who is the fiancé of a US citizen can apply for a K-1 visa to go to the US and marry his or her US citizen sponsor within 90 days of arrival.
K-4 Visa: K-4 visas are issued to eligible offspring of K-3 visa applicants.
Foreign-born spouses of U.S. citizens who are awaiting permanent immigration status in the United States are eligible for the K-3 Visa. A foreign citizen who marries a U.S. citizen outside of the United States must apply for the K-3 visa in the nation where the wedding took place.
If a foreign-born citizen has been married to a US citizen for two years, the foreign spouse can apply for an IR1 visa, also known as an Immediate Relative Spouse Visa.
The CR1 Visa, also known as the Conditional Resident Spouse Visa, permits a recently married foreign-born spouse to immigrate to the United States and get a Green Card if the pair stays married for at least two years.
Visas sponsored by an employer
EB2 visas, or employment second preference visas, are for professionals with a master's degree or equivalent, as well as foreigners with exceptional talents.
Foreign nationals who are exceptional academics or researchers, or who are a particular multinational executive or manager, are eligible for an EB1 or employment first-preference visa.
Religious workers, members of the armed services, and some physicians are eligible to apply for EB4 visas, or employment fourth priority visas.
To come to the United States, skilled individuals and professionals can apply for EB3 visas, or employment third preference visas.
EB5 visas allow investors to come to the United States by investing in a new commercial company that creates at least 10 full-time jobs.
Visas sponsored by the family
Any of the following visas can be used to come to the United States by family members of U.S. citizens.
Children under the age of 21 who are not married
Adopted orphan children from another nation by U.S. citizens.
Sons and daughters who have never married and their young children
Parents of at least 21-year-old US citizens
US citizens' brothers and sisters, as well as their spouses and minor children.
Any of the following visas can be used by family members of permanent residents of the United States to come to the United States.
Sons and daughters who are married, as well as their young children
Green Card holders' unmarried children (over 21 years old).
Green Card holders' spouses or young children.
Visas for Returning Residents
Green cardholders who have been outside the United States for more than a year due to circumstances beyond their control are not permitted to enter. 
The returning resident visa, often known as the SB visa, allows people to return to the United States.
Immigrant Visas for Diversity
Every year, the United States invites foreign nationals to come to the country under a programme known as "diversity immigrants." 
These foreign nationals come from nations with low rates of immigration to the United States.
Visas for Iraqis and Afghans
SI visas are available to Iraqi and Afghan translators and interpreters who have served with the US military and satisfy specific conditions. An SQ visa is available to Afghan or Iraqi citizens who will be working for or on behalf of the US government.
Visas for Religious Workers
An R1 visa is for religious workers who desire to enter the United States temporarily to work in religious capacity.
How can I apply for a visa in the United States?
There are numerous phases to applying for a visa in the United States. However, the sequence in which you complete these procedures and how you do them may differ depending on where you live in the United States. 
Consulate or Embassy In any event, you must fill out an application online and make an appointment with the US embassy or consulate in your home country to apply for a US visa. Once you've decided on the reason and kind of visa you'll need, fill out the application form, pay the visa costs, arrange the visa interview, gather the necessary papers, and attend the interview on the specified day.
Following the approval of your visa, you may be required to pay a visa issuance fee (if applicable) and make arrangements for the return of your passport and visa. If your passport expires, you do not need to apply for a new visa. 
Your visa must be current and undamaged. In this scenario, you can travel with both your expired and new passports as long as the objective of your trip corresponds to your current nonimmigrant visa. In addition, the names and other personal information on both passports must match. 
For example, if you changed your last name after marriage and your new passport does not include the visa, you may need to contact the US diplomatic post that issued your passport.