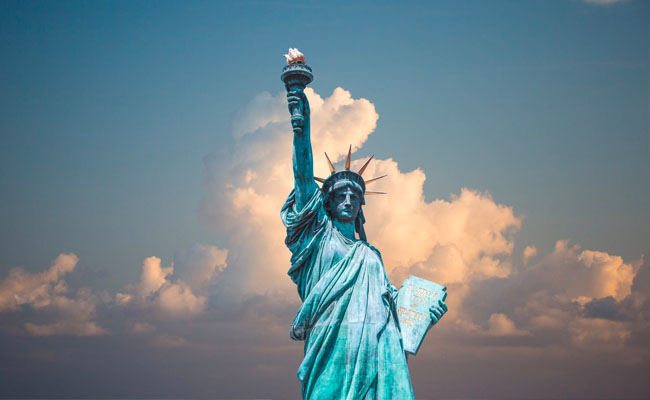 Many people from outside the United States seek a green card since it allows them to live and work (legally) anywhere in the country for three or five years before becoming eligible for citizenship. 
The majority of the visas are issued to family members of US residents and existing green card holders, with people from other nations seeking work in the US coming in second.
A guide to green cards for permanent residency in the United States:
Timeline for the Green Card
Depending on the sort of green card you're looking for and where you're applying from, the processing period can range from 10 to 38 months.
APPLICATIONS FROM BEYOND THE UNITED STATES
The wait time for spouses and immediate relatives (parents and minor children) of US citizens applying through consular processing from outside the US is usually significantly shorter, between 4 and 6 months (although note the coronavirus pandemic has led to severe delays). 
APPLICATION FORM WITHIN THE U.S.
There is a relatively short wait period for wives and close family members of US citizens applying for adjustment of status from within the United States, averaging 13 months (as of April 30, 2021).
The wait can be significantly longer for wives of US green card holders, other relatives of US residents, and employment-based green cards, often two years or more.
Costs of a Green Card
For a family-based green card, the government filing cost is $1,760 for applicants applying from inside the United States and $1,200 for those applying from outside the United States. 
Types of Green Cards
Green Card based on Employment
Multiple subcategories of employees can apply for permanent residence under the employment-based green card category.
Getting a Green Card for Your Family
If you have a relative who lives in the United States with their immediate family, you can apply for a green card. Families include parents, children, and siblings (as well as the spouses and children of those spouses, adult children, and siblings).
Widows and widowers, like spouses of living U.S. citizens and existing green card holders, must establish that their marriage was genuine in order to get a green card based on marriage. Cousins, aunts and uncles, and grandparents are among those who do not qualify. 
In order to obtain a green card, one must be related to an American citizen or permanent resident (or qualify for one of the other types of green cards below).
Green Cards for Humanitarians
For the sake of refugees and asylees
They can apply for a green card after living in the United States for at least one year after acquiring refugee status or asylum. 
Under these programs, children and spouses (as well as extended family members in some circumstances) of refugees and asylees may seek protection in the United States and eventually apply for a green card.
Victims of crime
Additionally, the applicant must not have left the U.S. between the time they applied for a green card and when USCIS accepted (or rejected) their application in order to qualify for a green card. From the time they acquired a U visa until USCIS accepts (or refuses) their green card application, they must not have refused to assist in the investigation or prosecution of specified offenses.
The victim's children, parents, siblings, and spouse will be able to apply for their own green cards if they meet all of the conditions, as will the victim.
Violations of human rights
The candidate for a green card must have physically lived in the United States for one of the following periods, whichever is shorter:
It's been three years since I was granted a T visa.
The length of time it takes to investigate or prosecute human trafficking.
For example, from the time they obtained a T visa until they are accepted for a green card, they must demonstrate "good moral character" (i.e., they haven't committed specific crimes like fraud, prostitution, or murder). Another example is that they must show the US government that if they were forced to leave the country, they would face significant hardship and serious damage. (USCIS offers a complete list of qualifying requirements.)
Certain relatives will be able to apply for their own green cards as long as both they and the victim meet all of the conditions.
Domestic abuse victims
Domestic abuse victims (battery or extreme cruelty) can apply for a green card, allowing them to seek remedy under the Violence Against Women Act (VAWA). 
Without the knowledge or consent of their abusive family, an abuse survivor can apply for a green card on their own. A current or previous spouse who is a citizen or holder of a green card in the United States. An immigrant parent who is either a U.S. citizen or a green cardholder.
Citizenship by Investment for Long-Term Residency
Individuals who have physically resided in the United States since January 1, 1972, either legally or illegally (meaning they were "undocumented"), may apply for a green card through a unique process known as "registry." To be eligible for a green card through registration, a person must fulfill all of the following requirements:
They haven't done anything wrong that would render them "deportable". Drug addiction, smuggling, and marriage fraud are examples of such breaches.
They haven't done anything wrong that would render them "inadmissible". Illegal entry into the United States and remaining in the country for more than six months on a visa that has expired are examples of such breaches.
Lottery Green Card for Diversity
The United States' "green card lottery" (formally known as the "Diversity Visa Lottery Program") chooses up to 50,000 persons at random each year from a pool of entries received from six geographic zones, including Africa, Asia, and Oceania. 
Only persons from countries with historically low levels of immigration to the United States, such as Algeria, Lebanon, and Slovakia, are eligible to participate in the lottery. 
Other Countries' Green Cards
Aside from the sorts of green cards mentioned above, the US government offers a variety of different types of green cards. 
Journalists, religious workers, Afghan and Iraqi nationals who have worked for the US government in certain capacities, and other types of workers who have worked for an international organization are among those who qualify for green cards as "special immigrants".